Domestic Violence
Protecting Survivors of Domestic Violence, Sexual Violence, and Child Abuse
On August 15, 1996, I lost Janet, my big sister and only sibling, to domestic violence. She was just 33 years old and left behind two very young children, then aged 6 and 2. Janet and I were close. I've dedicated a life of public service to her loving memory.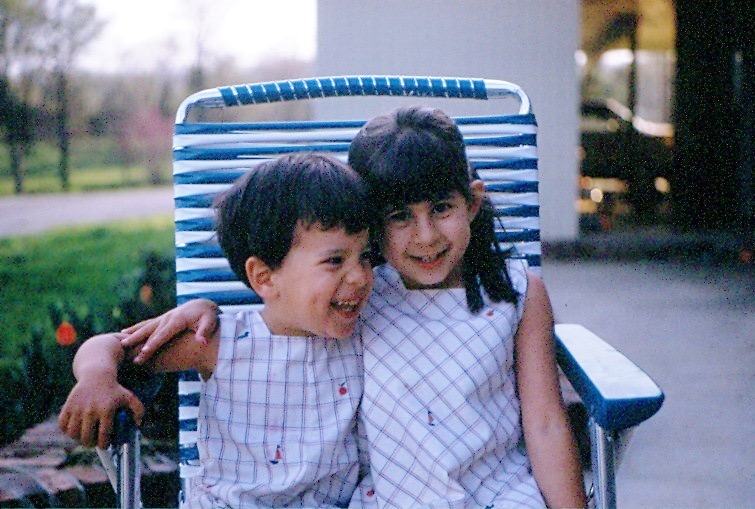 It took us 10 long years to get justice for Janet and to return my niece and nephew to my parents, their loving grandparents, who raised them to adulthood. But for a decade, Tennessee courts kept these two innocent kids in the custody of the man who murdered their mother and fled to Mexico. Tennessee law said that domestic violence could not be a factor in the termination of parental rights. I'll never forget the feeling of helplessness I felt as I watched those two young children crying and torn away from their grandma's arms.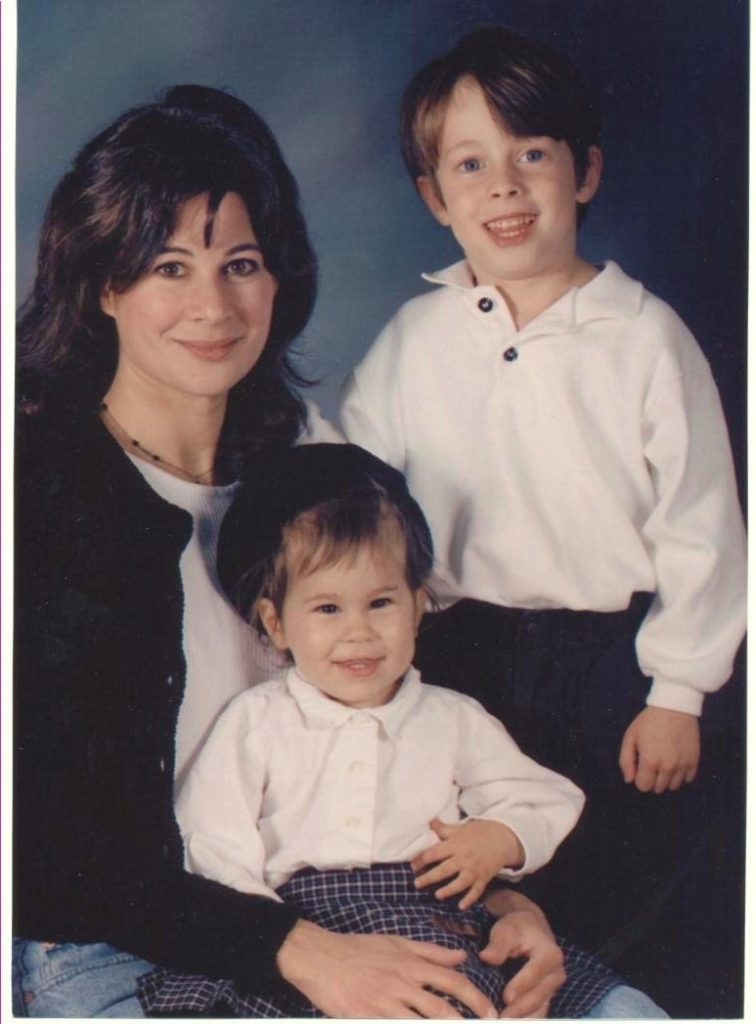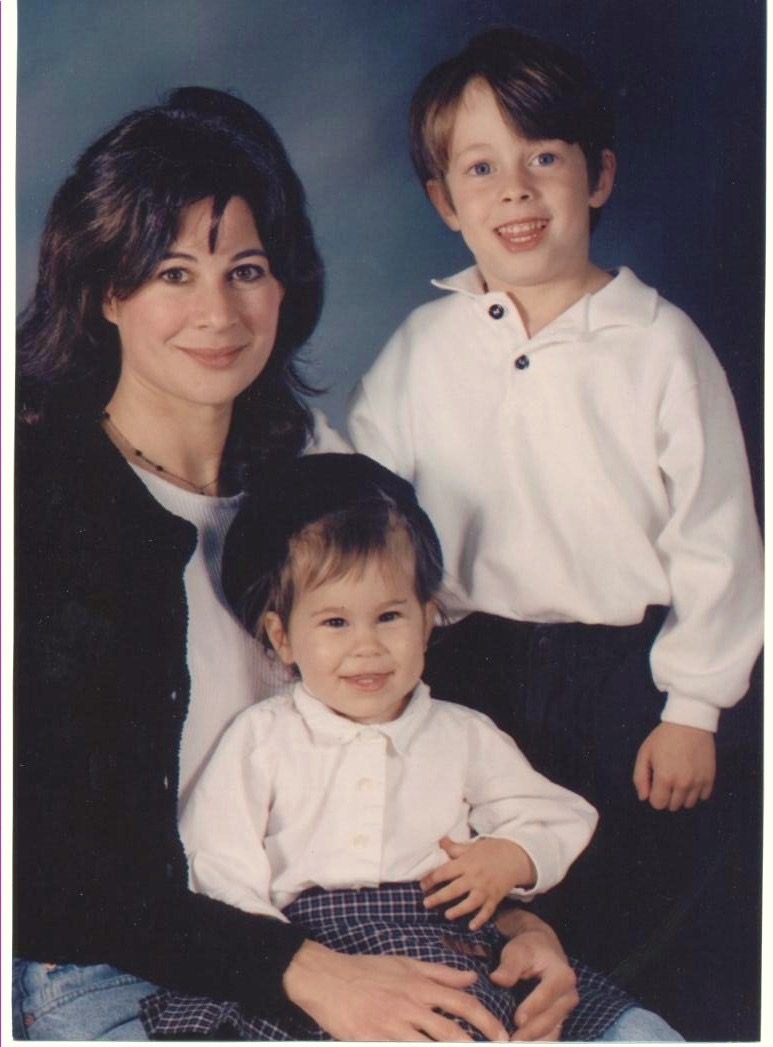 The first bill I ever wrote was to change that law. Both Democrats and Republicans in the Tennessee state legislature understood the law's basic premise: "if you beat your wife, you're not a good dad." (Although I made the bill gender neutral, of course, women are clearly the vast majority of domestic-abuse victims.) The bill passed unanimously. And the very law I wrote was eventually used to reunite my own family and thousands of others.
Every year in Virginia, from 2016 to 2020, I reintroduced a similar bill until after five tries, it finally became law here. We called it "Tyler's Law" after a young man abused by his father in Abingdon. I also passed a law to keep rape kits from inadvertent destruction. I've increased the Virginia budget for Child Advocacy Centers to help children who are abused or come from abusive homes, and I've worked with local domestic and sexual violence groups to increase funding for shelters and to encourage survivors to share their stories with Take Back the Night. I serve on the Virginia Advisory Committee on Sexual and Domestic Violence.
Perhaps my proudest work was obtaining a Federal Grant to bring 24/7 Sexual Assault Nurse Examiners to Northern Virginia, so that survivors of sexual assault can be seen immediately at any hour on any day and have their medical, psychological, traumatic, and forensic needs met under the highest and most compassionate care.
I've also put forward bills to prohibit perpetrators of domestic violence from obtaining firearms and to ease the judicial burdens on victims presenting their case. Once reluctant to discuss the issue, I now speak out often to diminish the stigma for survivors. Here I am at the World Bank giving a keynote address on the topic.
For the last quarter century and for as long as I live, I will continue to speak out on behalf of survivors of abuse. As Lieutenant Governor, I will share my story and support and encourage other survivors to share theirs.
Video of my floor speech on my sister's birthday (Feb. 20, 2020)
---
LGBTQ+ Rights
When I first moved to Virginia, it was illegal for me to be gay. No human should ever be called illegal. I've fought my whole life to ensure that everyone, no matter how they identify or who they love, has full rights. And I'll continue to do so.
No Virginian should have to accept discrimination or less than full equality. I've introduced bills to:
– Decriminalize HIV-positive people by aligning Virginia's infected sexual battery law with the most up-to-date public health best practices.
– Add 'sexual orientation' and 'gender identity' to more than 70 places in the code. Wherever other discrimination is prohibited in Virginia, discrimination against LGBTQ+ Virginians will be prohibited as well.
– Prohibit state funds from going to adoption agencies that discriminate against people on the basis of race, color, religion, national origin, sex, sexual orientation, gender identity, marital status, or status as a veteran.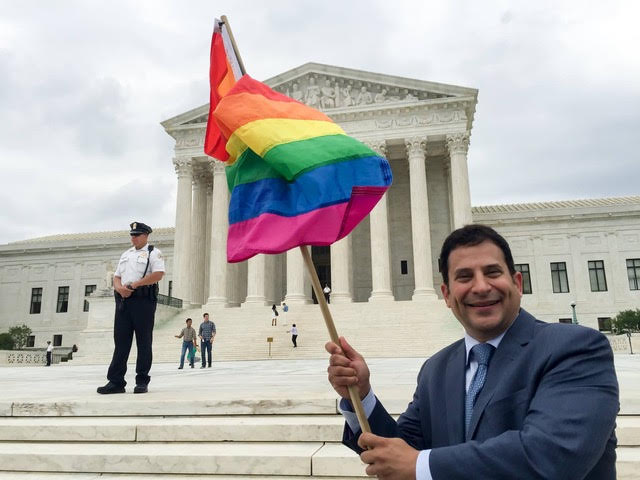 ---
Reproductive Freedom
Abortion is a fundamental human right. Every person deserves to have complete freedom over their body and their reproductive decisions. As a Delegate, I proudly earned an A rating by NARAL in 2020. Since 2020, we've made significant progress in Virginia by rolling back multiple abortion restrictions. But it's not enough to be just pro-choice; we need to:
– Make birth control available & accessible to all.
– Remove parental consent & notification laws when minors seek abortion.
– Eliminate undue burdens for folks seeking abortions. Abortion is healthcare and access shouldn't be based on your zip code or income.
– Oppose TRAP (Targeted regulation of abortion providers) laws that place medically unnecessary regulations on abortion clinics.
– Use my position to advocate for the removal of the Hyde Amendment.
---
The War on Drugs
Legalizing Marijuana:
In 2016 I introduced a bill to decriminalize marijuana. It took four years for that bill to pass and since then I've pushed to go even further and fully legalize marijuana.
Data shows that despite equal marijuana usage between white people and people of color, Black people are still 4x more likely to get in trouble.
In Virginia Black people are over three times more likely to be arrested on marijuana related charges and four times more likely to be convicted of them than their white counterparts. That is unacceptable.
Legalizing marijuana is just the beginning of righting this wrong. I've proposed a bill to allow people who have served their time to expunge a non-violent drug possession offense.
Ending Virginia's War on Drugs:
I believe that addiction is a disease, not a crime. We need treatment centers, not jails. Drug addiction is a multi-faceted problem and tackling it requires more than just criminalization.
I've fought for legislation to:
– Make it easier for folks to report overdoses without fear of criminal prosecution.
– Allow emergency response people to administer life-saving naloxone.
---
Economic Opportunity
We need to make workplaces accessible and equitable for all. This starts with:
– Equal pay for equal work. There should be no pay disparities based on gender.
– Ban employers from asking for the salary history of job applicants. People should be paid based on their value to an employer, not based on their salaries from prior jobs. Salary history questions have been reported as a leading cause of the still-existing pay gulf between men and women, and between white folks and people of color.
– Adopt Paid Family and Medical Leave. I was the first Virginia legislator to propose paid family and medical leave. I've been the proud sponsor of PFML since I've been elected and I'll continue to champion it as Lieutenant Governor.
– Oppose right to work.
– Allow localities to raise the minimum wage over the state minimum.
– Ban predatory lending.
– Help those being evicted by giving them notice in Spanish and English of both their legal rights and existing programs that help them avoid becoming homeless.
Furthermore, we need to take extra steps during COVID-19 to ensure families don't suffer. We need to:
– Ban evictions during COVID-19.
– Ban utility shut offs.
– Make sure restaurants can continue to function outdoors with proper social distancing.
---
Affordable Healthcare
Healthcare is a right, not a privilege. No one should die in the richest country on earth because of inadequate healthcare.
I've introduced legislation to:
– Increase transparency in healthcare by requiring doctors and hospitals to divulge the costs of procedures long before those procedures take place.
– Expand transparency in drug pricing.
– Ensure that "In network" or "Out of network" shouldn't matter in an emergency- we must prohibit surprise overcharges from out-of-network healthcare providers.
– Allow state authorities to negotiate down the cost of healthcare.
---
Democracy
We need to continuously seek to strengthen our democracy to protect against presidents like Donald Trump.
Moving to the popular vote:
I believe in one person, one vote. I've been a tireless advocate of passing the popular vote. All voters should be valued equally in presidential elections, no matter where they live. Currently, our system values voters unequally because of our antiquated "winner take all" system.
So far, 15 states have passed legislation to enter into the National Vote compact and I won't stop until Virginia is next.
Protecting our right to vote:
Voting should be easy.
Republicans have continuously pushed for laws to disenfranchise people of color, younger folks, and folks less well off. I've been proud to fight for these measures to make voting easier:
– Repeal unnecessary voter ID laws.
– Allow same-day voter registration.
– Oppose voter intimidation. Just this year, my bill to ban guns from the polling place passed.
Fixing Virginia's broken campaign finance system:
In 2019, an out of state Republican donated $500,000 to Nick Freitas's reelection campaign. And it was legal!
Virginia does not have adequate campaign finance laws. And I've fought to change that. I propose starting by limiting campaign contributions by tying Virginia's campaign contribution limit to the federal limit (currently $2,800 per election cycle, and $5,600 per year).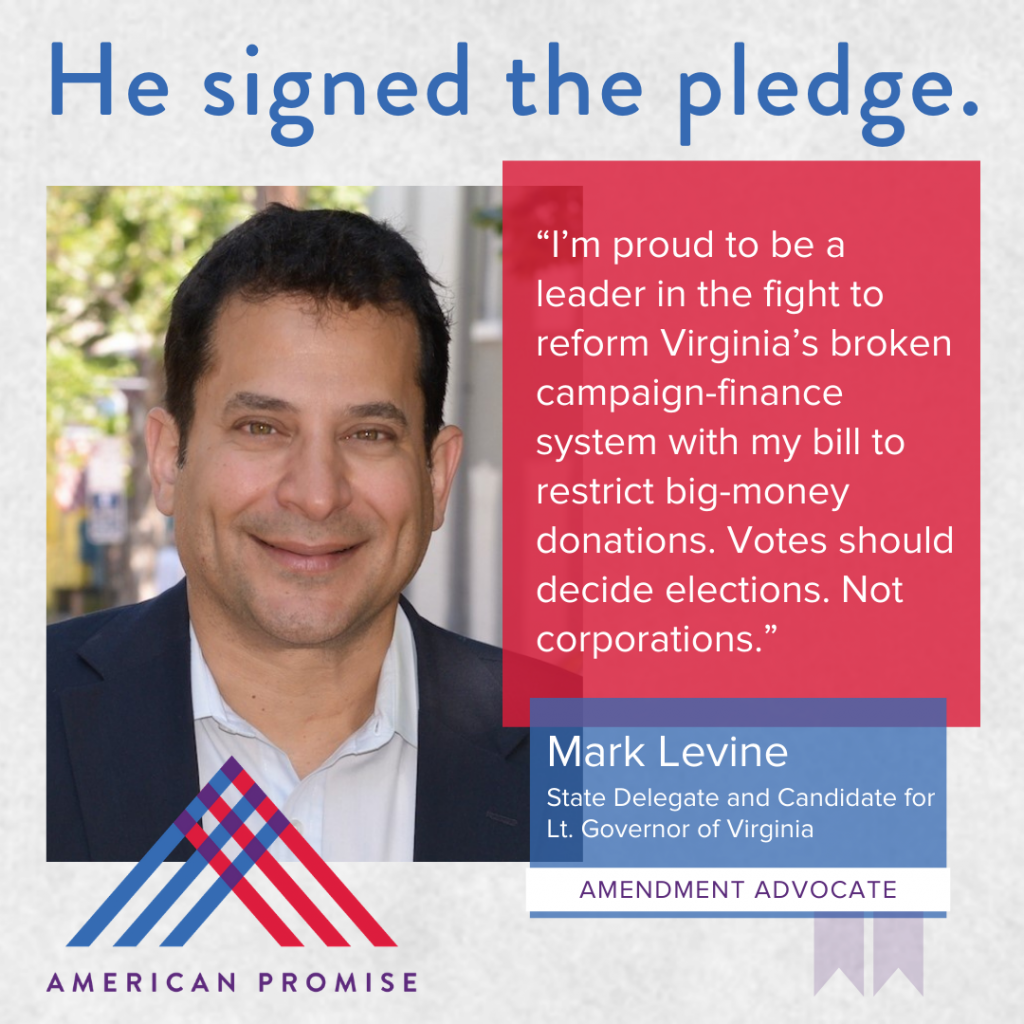 ---
Immigrants
Our strength is our diversity, and we're all helped by allowing everyone to thrive. We are the only nation on the planet founded by immigrants and for immigrants. We've seen the harm that politicians like Donald Trump can do to our immigrant population. It's more important than ever before to make Virginia accessible to immigrants. That means:
– Allowing undocumented immigrants to get driver's licenses or identity card.
– Ensuring undocumented immigrants are able to pay in-state college tuition.
– Reducing the collaboration between ICE and local police.
I passed a law ending the requirement that undocumented immigrants with misdemeanors be reported to ICE.
---
Systemic Racism
We need to prioritize anti-racist policies. That means examining our laws on every level through an anti-racist lens. In 2020, I ended an antiquated law requiring the placement of race on marriage certificates.
Since then, I've made an effort to examine laws and symbols we can change. I ended Jefferson Davis Highway in Arlington, even after being told it was "impossible" without legislative action.
But taking one law at a time isn't enough. We need to proactively pass anti-racist laws. This year, I proposed the Good Apples Bill, which requires law enforcement to report bias-based profiling or wrongdoing by their fellow officers. Despite having a Democratic controlled legislature, it didn't pass. We must elect Democrats who are committed to dismantling systemic racism.
---
Green Virginia
I live in Alexandria, where we've had three '100 year floods'. The science is clear: Climate change is real, and we must act now. We can't let Republicans harm our planet anymore.
Fighting climate change is an international task, but that doesn't mean there aren't concrete steps we can do here at home, in Virginia.
I proudly supported the Virginia Clean Economy Act, which creates the Commonwealth's first Clean Energy Standard, putting Governor Ralph Northam's pledge to transition our electric grid to 100% clean energy by 2050 into Virginia law.
In addition to supporting the Virginia Clean Economy Act, I proposed a study on urban and inland flooding and wrote legislation to allow local governments to mitigate it.
In Virginia, our elected officials need to be serving the people, not big interests. That's why I've never taken a dime from Dominion Energy or Appalachian Power.
---
Gun Violence
The only F I've ever received has been from the NRA. They know that I'm one of Virginia's leading advocates for reducing gun violence.
When an armed gunman came to my home, I didn't back down. In that moment, I knew the fear that families and victims of gun violence felt and that motivated me every day to stop gun violence.
I've written and supported Virginia laws to:
– Require universal background checks.
– Bring about extreme risk protection orders.
– Allow localities to regulate guns.
– Ban guns at protests.
We must still:
– Ban non-law enforcement from owning or selling "cop-killer" armor-piercing bullets like those that are Teflon-coated.
– Prohibit a person who has been convicted of domestic violence from possessing a firearm.
– Increase the sales tax on purchases of firearms and ammunition by a few percentage points, with collected funds going to student mental health and safety.
– Ban high-capacity magazines, silencers, and bump stocks.
– Prohibit people who have been ordered locked up due to severe mental illness from possessing firearms. People experiencing mental illness are far more likely to be the victims of violence than the perpetrators of violence. Suicide attempts using guns are the most likely to be fatal.
---
Accessibility
Virginia should be accessible for all, particularly to Virginians with disabilities or special needs. I've proposed legislation to reform our guardianship system to minimize forced isolation of people who've been deemed incapable of making their own decisions.
I've written a law to require all incoming public school teachers to have training in best practices for conflict prevention and de-escalation. This will help schools avoid restraint and seclusion wherever possible when working with disruptive students.
I've been a proud partner with ARC of Northern Virginia and as Lieutenant Governor, I will work with advocates across Virginia.
---
Puppies
One of my favorite parts of canvassing is meeting my four-legged constituents.
In 2020, I proudly passed a bill to end dog tethering during extreme temperatures and severe weather and increase the minimum length of tether.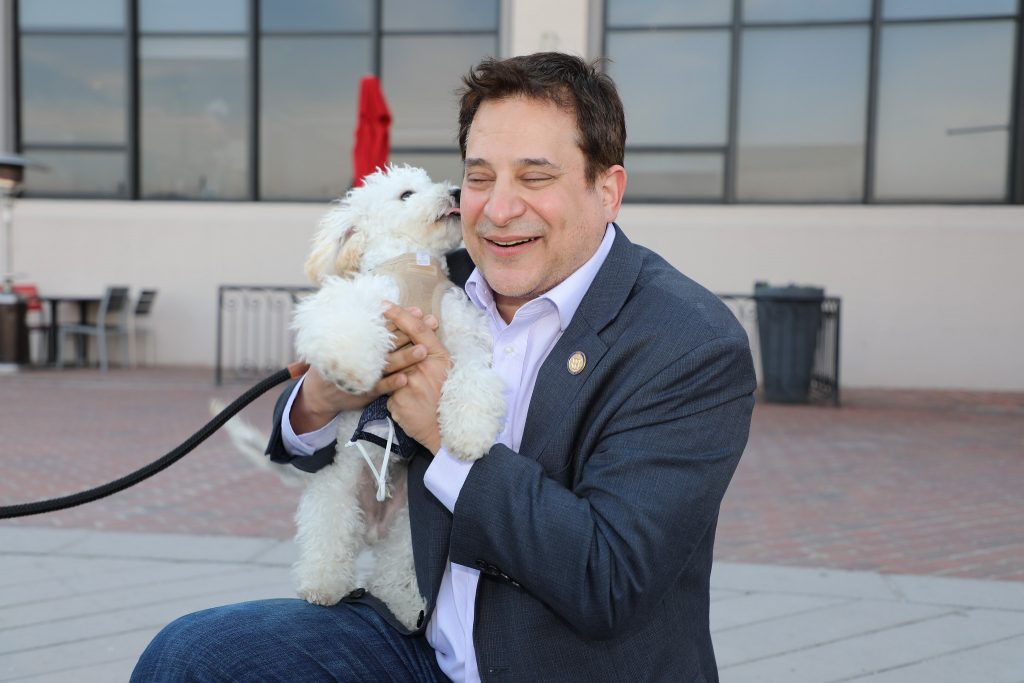 ---
Transparency
In 2016 I founded the Virginia Transparency Caucus to successfully persuade the Virginia General Assembly to livestream and archive all of its committee proceedings and to record all of its votes.
You shouldn't have to be a lobbyist to participate in the legislative process and follow what your elected officials do every day.